Cardiac massage and mouth-to-mouth breathing are easy maneuvers to learn even by a child who has just entered school. Mihaela Arion, co-author of the "Sunt primule Ajutor-SPA Junior" guide, showed us how to correctly carry out first aid measures accessible to children.
We imagined the situation in which a child would notice a man fallen in the street. The first thing they should do: call or ask someone to call 112. What measures could the little one take while waiting for the specialists? For example, Paul, Mihaela Arion's son, helped us. The child checks that the patient is breathing. First, he looks to see if his chest moves, then he listens to the sounds of breathing, with his ear close to the victim's mouth and nose. When approaching the victim's nose and mouth, you can feel how the air comes out. To perform cardiac massage, look for the lower half of the sternum, more precisely in the middle of the chest. Place the bridge of your palm in this area with your elbow extended. Place the other palm, also with the elbow extended, on top of the other. The fingers must be interlaced. With outstretched elbows, press on the chest, rhythmically, with a frequency of 100 per minute. A detail for parents: with each compression, the sternum must descend by 5 cm in an adult. It continues like this until the ambulance arrives or until the person recovers. Chest compressions alternate with mouth-to-mouth breathing. 30 compressions, followed by 2 breaths. How are these made? The victim is lying on his back, on a hard surface, with his head thrown back (in hyperextension) and his mouth held open (with the thumb on the chin and two fingers immediately below). The rescuer must kneel next to the victim. Pinch the victim's nose, inhale, lean over the unconscious person, place your mouth over the victim's lips and exhale.
Mihaela Arion co-author of the guide "I am the first helper-SPA Junior" made in collaboration with the Romanian National Resuscitation Council and the Bucharest-Ilfov Ambulance Service
To perform mouth-to-mouth breathing, a special handkerchief is needed, which the child must have with him at all times. In the absence of this special handkerchief (facial protection field), mouth-to-mouth ventilation is only done to a known person (relatives)! A normal handkerchief does not protect against infections.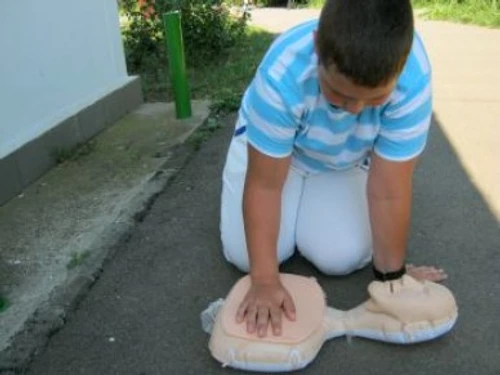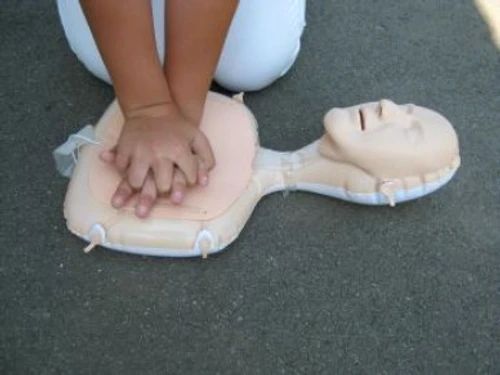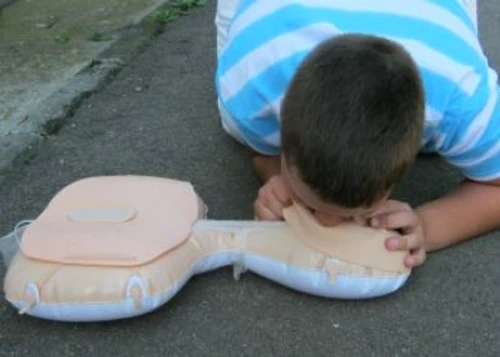 If there are injuries to the mouth, then air will be blown in through the victim's nose while the mouth is covered with the hand – this is mouth-to-nose breathing. Effective breathing causes the chest wall to rise.